The best part about the winters is that the year always ends with all the fun and frolic! Be it Christmas, New Years, or the UAE National Day long weekend – the most awaited holidays of the season come together.This festive season, we introduce #furoshikiwithbb – a traditional Japanese style of gift wrapping, where we at BB's Holiday Guide, help you pick the presents. Get that holiday shopping checklist sorted early so you can warm up with your favourite cup of hot chocolate! Here's adding spark and excitement to the gifting season, as we share some of our favorite local brands that we think would be perfect for your loved ones.
Sweet tooth? Without the guilt? Tarts, cakes, and so much more only at the No Dough Bakery. Their nut butters are to die for and they come in the cutest little jars. They are also known for their cookies and hazelnut chocolate tarts. And what's more? They bake clean, i.e., all unprocessed and natural ingredients used for these vegan-friendly goodies. Be sure to send some love through No Dough Bakery or even treat yourself to a slice of cake with your evening cuppa coffee. 😉
Modern jewelry with natural stones that help embrace positivity and self-care. Definitely sounds like our idea of a gift that's meaningful and beautiful looking at the same time. Crystals have healing capabilities and energizing qualities that make for a super thoughtful present.
Do you know anyone who is a hoarder? Or someone who just cannot find their things around home? Well, then here's the most sensible gift for that one person in your life who majorly needs some organizing to be done 😉 Tidymess helps you get rid of all the unwanted extras and declutter the house per your liking. Gift your loved one a clutter-free start to the new year!
Everyone knows someone who can drink cups of tea all day and all night. Feel Good Tea would be the perfect choice for your chai friend as they have over 18 different flavors to choose from. The absolutely cute box that it comes in, has various colors to choose from with customizable names and quotes. When you do order don't forget to try our personal favorites – Extra Battery and Pumpkin Chai 😉 Hope this guide has made things a tad bit easier for you, this gifting season. Visit our website
www.cleanbeautybinge.com
for customizable gift boxes and cards! Happy holidays!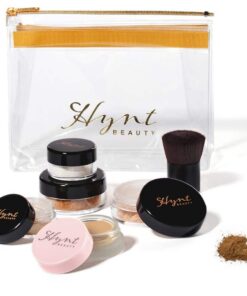 Out of stock